Madonna della Querce Farm
The Madonna delle Querce farm was born from a seventeenth-century Ranch owned by the Testa family, surrounded by a 4.5 hectare private park, not far from Castiglione d'Orcia, a medieval village in the Val d'Orcia, declared in the 2004 a World Heritage site for UNESCO.
The rustic and welcoming structure offers guests the opportunity to enjoy indoor and outdoor spaces in which to relax and perform various activities.
The farm is also a transit station for travelers and pilgrims who travel the Via Francigena, from Canterbury to Rome.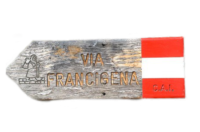 A few kilometers away, you can find the ancient baths of Bagno Vignoni and the Renaissance Pienza.